Get more organic search traffic with
JSON-LD for SEO
Earn more qualified traffic and improve your Shopify store's click-through rate with Rich Results.
7-day free trial
$399 per year
"If you're uncomfortable installing schema markup yourself, one of the best out-of-the-box apps is JSON-LD for SEO."

Be seen by more customers
Search engines offer search enhancements, e.g. Google's Rich Results, that highlight important details in search results. Getting your product information in front of your customers and directly into Google, Bing, Pinterest and more.

To earn Rich Results, we pull information directly from Shopify and turn it into structured data. This information is structured in a way that search engines like Google can easily understand even if it looks like gibberish to us.
Use search enhancement's to show information your customers care about. Making it easy for them to click your search result over your competitor.

Instead of just seeing your Shopify product pages like normal, your customers will see enhanced search results that might include
product images
price or price range
delivery rates
returns policy
product availability
product reviews
brand names
"The foundation of technical SEO for a Shopify store is structured data, and no app or team is more effective at ensuring Google understands your product pages as JSON-LD for SEO. I've recommended it for years to my clients because it just works."
- Kurt Elster, CEO of Ethercycle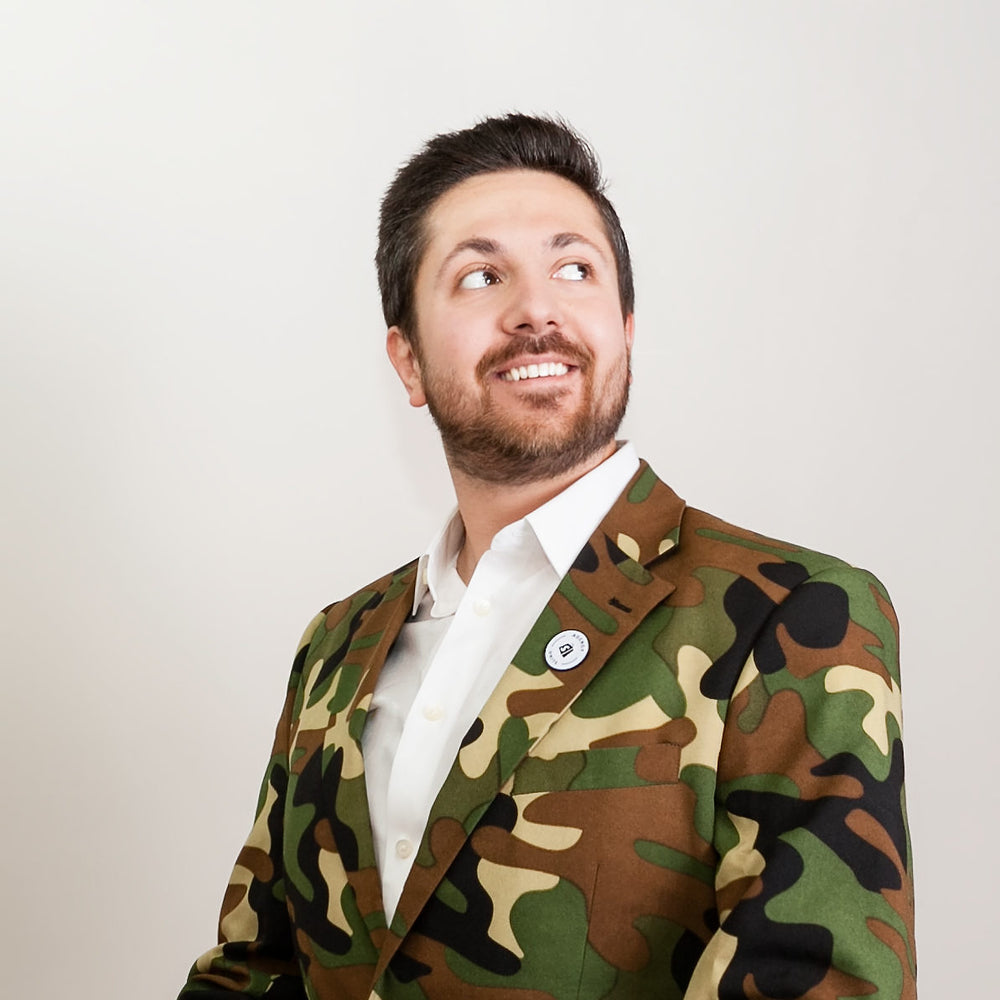 "If you want to be seen on Google without spending the time to manually add structured data to your Shopify store, this is the app! JSON-LD makes it so easy. Just download, set it and forget it. Full exposure without the headache of technical SEO."

- Laura Dolgy, Founder of Dolgify
Structured data built-in to most themes is broken and is missing critical information required for organic and paid results.

Your goal should be to have the most complete set of data with as much information that makes sense and follows Google's guidelines.
That's how you get and keep Rich Results.

With JSON-LD for SEO, you qualify for Google Rich Results / Rich Snippets for desktop and mobile search results including Image Rich Results. Plus, you qualify for Pinterest Rich Pins and Bing Information-Rich search results.
All without adding any code or copying and pasting information that's already in Shopify.

JSON-LD for SEO is also compatible with Shopify's Online Store 2.0 themes.
Struggling with Google Merchant Center?
Merchant Center is finicky, we know that. JSON-LD for SEO includes the unique product identifiers and all the structured data you need for Merchant Center to validate your variant pricing and product information.
Rest easy knowing that you can configure your structured data for pre-orders, back orders, used or refurbished, minimum quantity products and more to get your ads validated and approved.
Proven to Increase Traffic
Improve your search click-through rates, even with lower rankings.


Earn more qualified traffic on search engines to boost conversion rates.


Add FAQ, Recipe, and Video structured data for even more visibility.


Stand out and look like an authority with Google's Knowledge Graph.


Use the preferred method from search engines to add structured data.
Instant Integrations
Connect all the fields needed for Google Merchant Center.


Pull subscription-based prices from subscription apps that use Shopify Checkout.


Show reviews in search results with one of the 20+ review apps supported.


Compatible with any language supported by Shopify and Shopify Markets.


Automatically adds structured data for your products, blogs, pages, and homepage.
No impact to site speed.


Receive updates and premium support for all your questions at no additional cost.
Safely and effectively get Rich Results.


Be up and running in under 2 minutes. Yes, it's really that fast.
Benefit from different types of data
Products shine with reviews, price, delivery, returns and availability
Product pages with search enhancements might include your product images, price, delivery rates, return details, product availability, or product reviews similar to this example from Boredwalk. No reviews? No problem!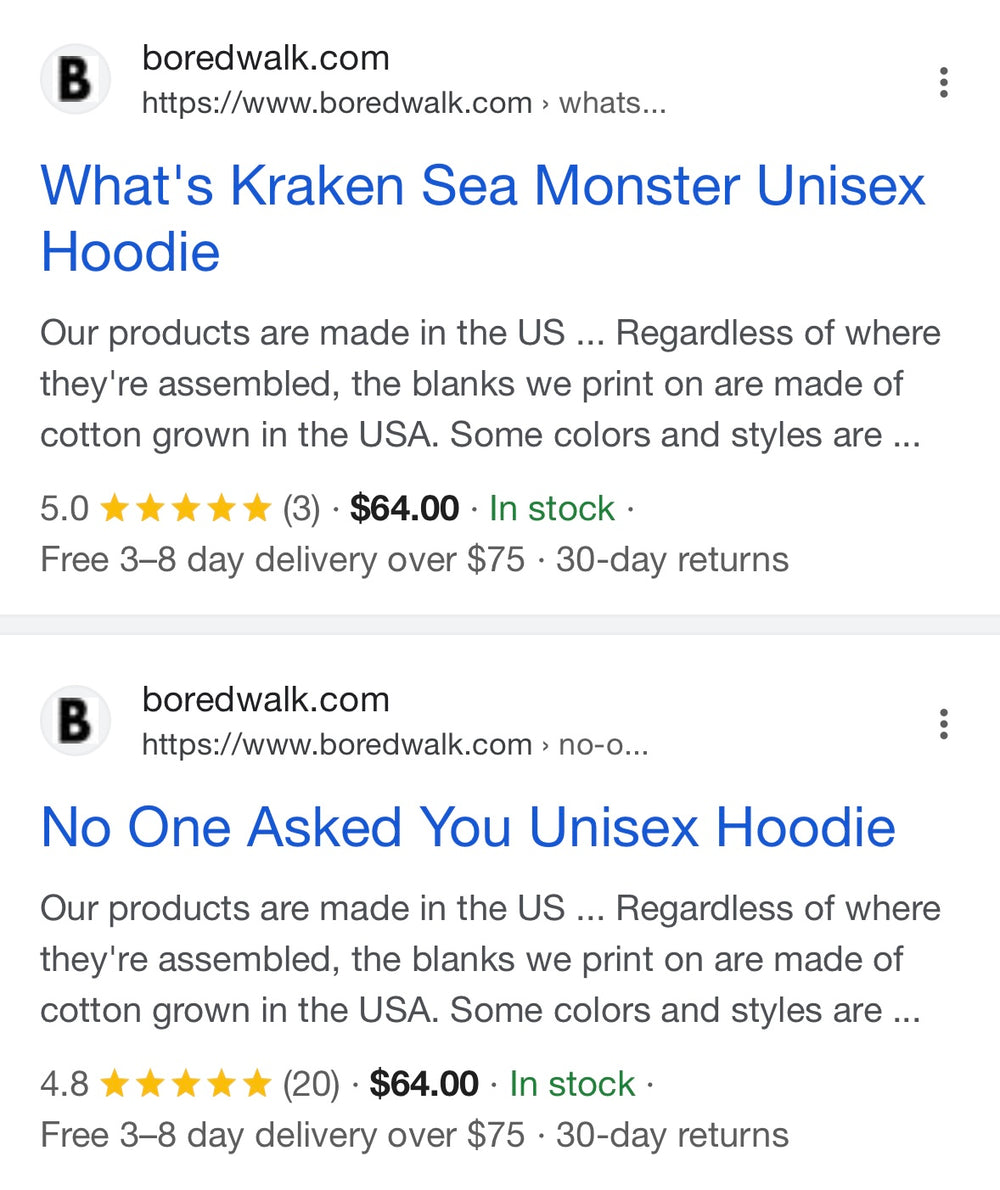 Standout with blog posts and pages in search results
Blog posts Rich Snippets and Rich Card search enhancements can be promoted by Google in the search results. All automatically without you needing to add any extra steps to your publishing process.
Location, Telephone, Social Profiles, and more
With Google Knowledge Graph Cards, you can show details about your store. Organization data for the Knowledge Graph is combined with your Google Business Profile and other public information online. The Knowledge Graph is the large box of your business information on the right side of search results.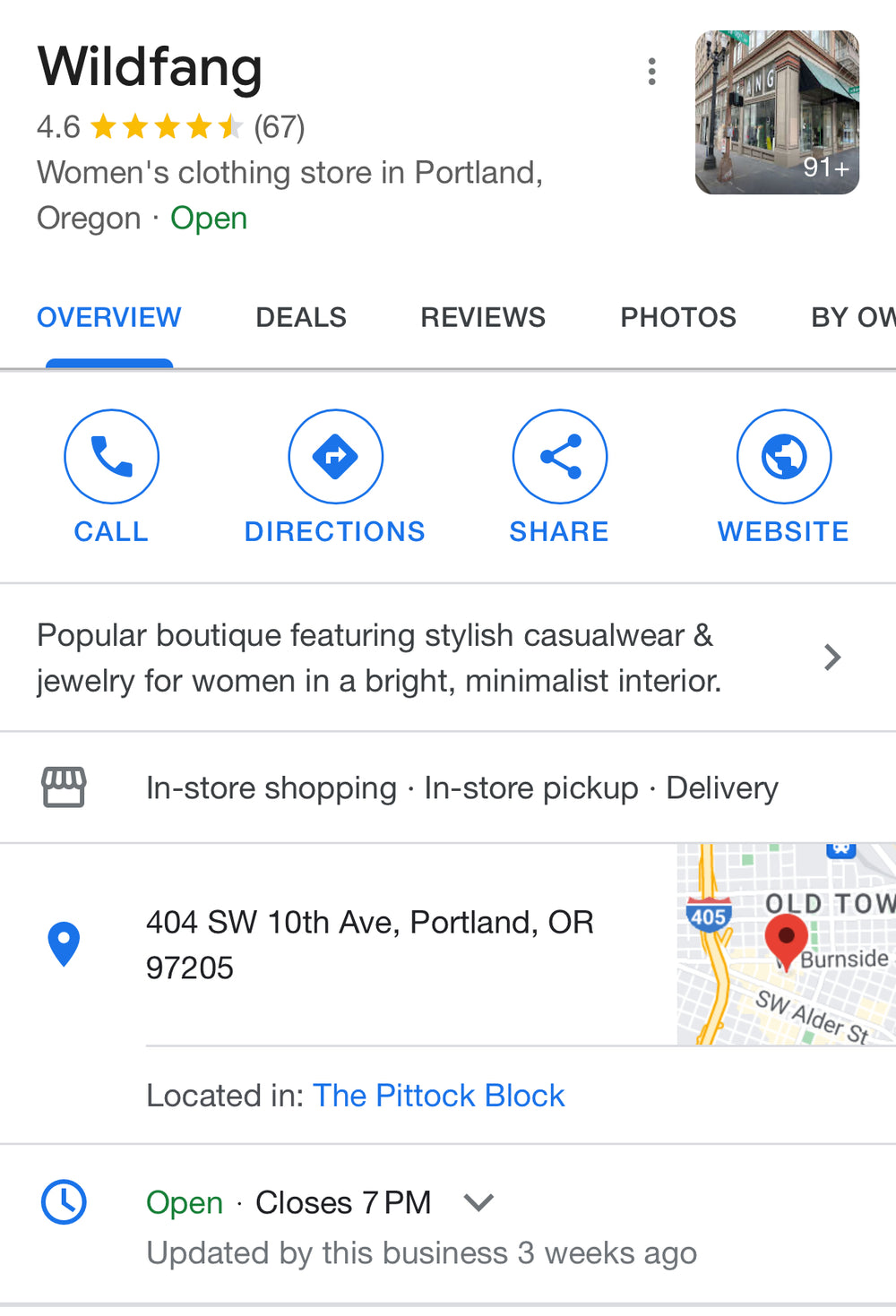 Discover and watch your videos in search results
By adding video structured data to videos on your Shopify store you can get some additional search enhancements like Rich Snippets, video previews, and inclusion in Google Image Search.
Get your recipes along the top of search results
This advanced feature will let you add the recipe data so Google shows the details in the search results. You may also be shown at the top of the search results in a Rich Card carousel.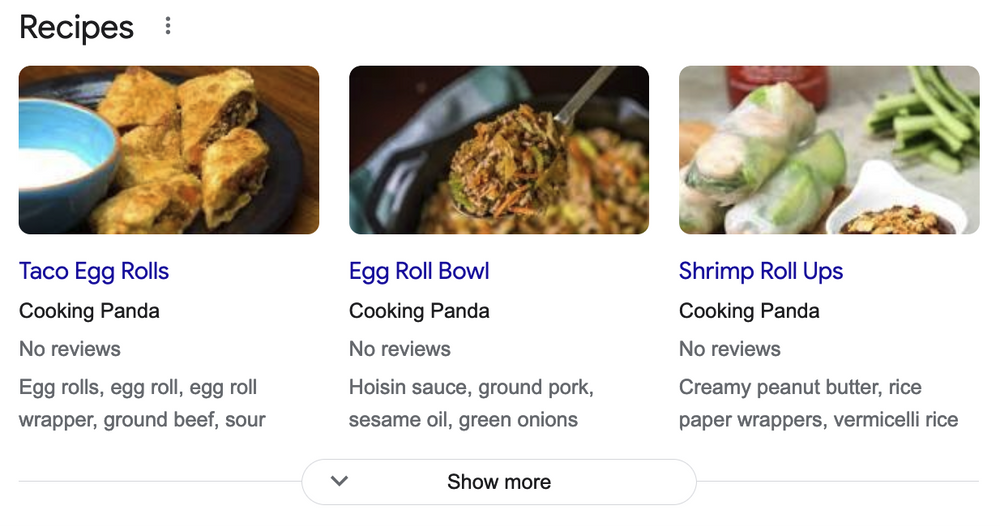 When you sign up for JSON-LD for SEO you'll get
A structured data audit to ensure the app has connected your Shopify data properly.


Unlimited app support with direct priority access to me (the owner).


Up to 6 months of Rich Result monitoring while Google begins to analyze and award Rich Results to your store.


A copy of Shopify SEO: Simplified, a 3-hour audio training course that teaches you everything you need to know about Shopify, SEO, and how to get traffic to your store.
Get more organic search traffic with
JSON-LD for SEO
Earn more qualified traffic and improve your Shopify store's click-through rate with Rich Results.
7-day free trial
$399 per year
Still have questions?

You can find out more details about what's included in JSON-LD for SEO and answers to your questions on the FAQ Page. You also have the entire knowledge base at your fingertips!

If you're still not sure if JSON-LD for SEO is right for you, contact me for your Shopify store's free Structured Data Audit.
We're still new to all of this and Ilana has been SUPER HELPFUL! QUICK response time to every question and has gone beyond expectations with every answer. Impressed. And appreciative. We are seeing results even with the basic changes made through the app installed and look forward to going deeper, knowing we have a friendly face on the other side of SEO. Thanks Ilana for everything.
It was great to see your results and it's been my pleasure to help. Your review is much appreciated. As more questions come up, please don't hesitate to ask.
- Ilana
Best app for schema ever!
Thank you so much for your review and great to hear you love the app. Please don't hesitate to reach out with any questions you may have about the app.
- Ilana
Ilana is fantastic. Deep knowledge of all things SEO. Super helpful answers to any questions even when they aren't directly related to the app. This is the easy button for structured data on shopify.
Wonderful to hear the app was an 'easy button for structured data' and it was my pleasure to answer all your questions. Don't hesitate to reach out as more questions arise. Thank you again for your review!
- Ilana
LLana has developed a great product (especially since it keeps up with Google
changes automatically). Very hands on and consultative proactively and reactively. Already showing improved results after a week. Great app and support!
I loved seeing your results this week and just before the holiday! Icing on the cake. It's my pleasure to help and if you have any other questions, please don't hesitate to ask. Thanks again for your review and kind words.
- Ilana
Esta App esta garantizada que funciona muy bien , yo no entiendo mucho sobre SEO pero los resultados son evidentes, a los pocos días de instalarla en Google ya obtuvimos resultados enriquecidos.
Además Illana es muy atenta y te mantiene informado en todo momento , yo no hablo bien ingles pero con el traductor nos hemos entendido a la perfección.
sin duda la recomiendo al 100%
Thank you so much for your review and your patience with the language barrier. It's been my pleasure to help and if you have any questions, please don't hesitate to ask.
- Ilana
Get more organic search traffic with
JSON-LD for SEO
Earn more qualified traffic and improve your Shopify store's click-through rate with Rich Results.
7-day free trial
$399 per year
Choosing a selection results in a full page refresh.
Opens in a new window.