Google makes updates to their algorithm all the time. In fact, in a video from Google they mentioned that they make changes to the algorithm at least 6 times a day.
Those changes are typically small and focus on minor tweaks and changes that rarely impact search results.
However Google also makes larger updates, which in the past have only been a few times a year.
This year we've seen our share of updates. April, June and July of 2021 brought some big changes. What people forget though is that Google make's mistakes too. They roll out changes, and sometimes, those changes break things.
I had a hunch over the last few months that something on Google's Search Result wasn't right, but I couldn't put my finger on exactly what happened.
I started to notice that the Rich Results were much harder to win. Well, harder to win on Regular Search results, but more often awarded on Image Results. I don't know for sure that this means anything, just something I noticed.
I chalked it up to Google and their algorithm since after all, Google decides who receives search enhancements.
On July 22nd, it all came to a head when Review Snippets completely fell off Regular Search.
As shown in the screenshot below, Reviews on Search Engine Results Page (SERP) went from appearing on around 50% of sites to 3%.
Part of me was relieved because I knew in my gut something was different, but I couldn't pinpoint what it was.
The other part of me was thinking 'oh crap!'.
I don't know what exactly caused the issue in Google's Review Snippet changes. Was it updates that happened in April that finally affected sites? Was it changes from their July Core Update? Something else? We may never know.
I can say that Google has resolved the issue and I am seeing sites starting to recover their Review Snippets.
As shown in this Shopify store example, you can see the Review Snippet total impressions took a nose dive on July 21, 2021 and began to recover on July 27, 2021.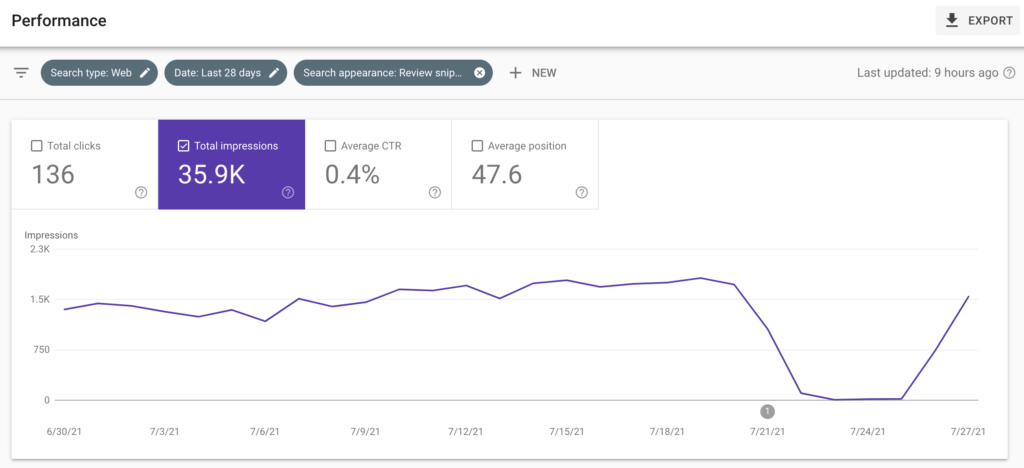 This is also a good reminder that we don't get to decide what's shown on Search Results. The types of Rich Results Google shows and the data they use is all up to their algorithm. JSON-LD for SEO always includes as much data as you have setup including the prices, availability, and reviews. It depends on their algorithm if they show something or not.
This is also a stark reminder that parts of your marketing channels are outside your control and there's nothing you can do about it. This is a completely normal thing to happen with Google and it can be hard to know what exactly impacts results.
So what does this mean for you?
If you have JSON-LD for SEO, there's nothing you need to do to solve this. It's a matter of letting Google continue working through the issue with their updated algorithm. Your site already has all the data Google needs to grant you Rich Results. If you have a review app that we integrate with, you'll have a better chance of Google showing these Review Snippets.
If you don't have JSON-LD for SEO, well this may be a good time to add the app to your Shopify store.
Get more organic search traffic for your Shopify store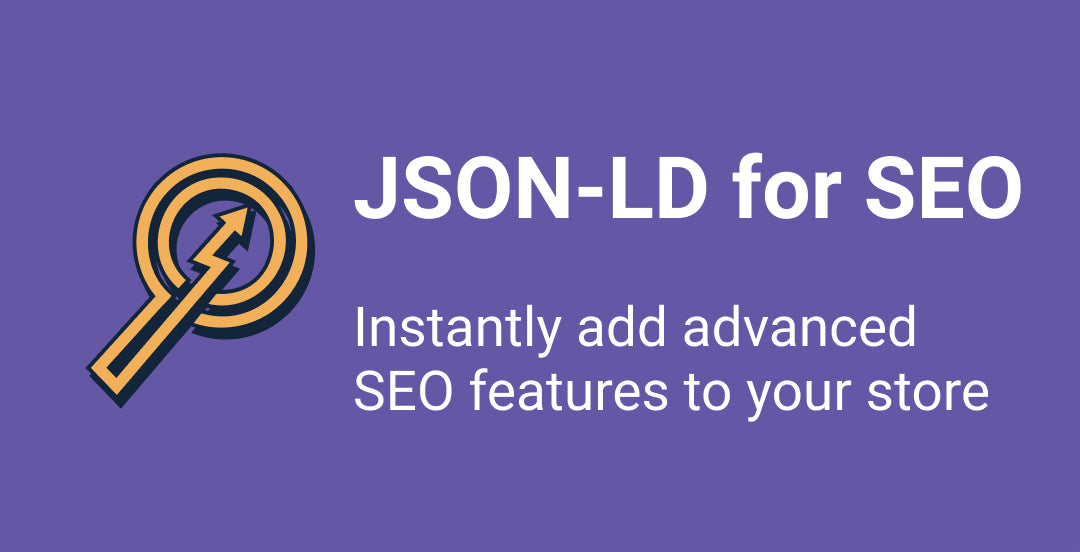 Increase organic SEO traffic through Google's Rich Results. One-click allows search engines and others to understand your store and products.