I don't remind folks often enough but now's as good a time as any, backup your Shopify store today.
Many of you are doing final preparations (or you're there now) for an influx of shoppers on your site.
There are no native backups in Shopify so if you want to have a backup, that means you have to do it yourself.
Shopify backs up all the data for its own records, but you don't have access to those files. In the event something is deleted in your Shopify store, they are gone forever. So you should take steps to protect your store.
Why backup your store?
The leading cause of issues on a Shopify store is user error! We've all done it.
Another reason to back up your site is the second leading cause of issues. Apps. You may have added an app for your promotions and likely won't know it broke something until it's too late. As a rule of thumb, backup your site before and after every app!
Anytime you touch your store I'd recommend creating a backup before you touch it. When manually backing up your store, save the backup to your computer or a cloud-based system like Google Drive. Notice I said before you touch your store?
This way if there is an issue with any changes you make, you can easily revert back to how it was before you made changes.
What to backup?
1. Your Theme
Start by going to your Sales Channel in the admin panel. Select Online Store and then Themes.
You should now see your current theme and next to the Customize button you'll see 3 dots. From that menu, select Download theme file which will send you an email.
If you are tech-savvy and feel comfortable getting into the code, Shopify's Github integration is pretty great.
2. Products
I'd also recommend manually backing up your store data by exporting a CSV of your Product Details.
Go into Products and select Export. Select All products.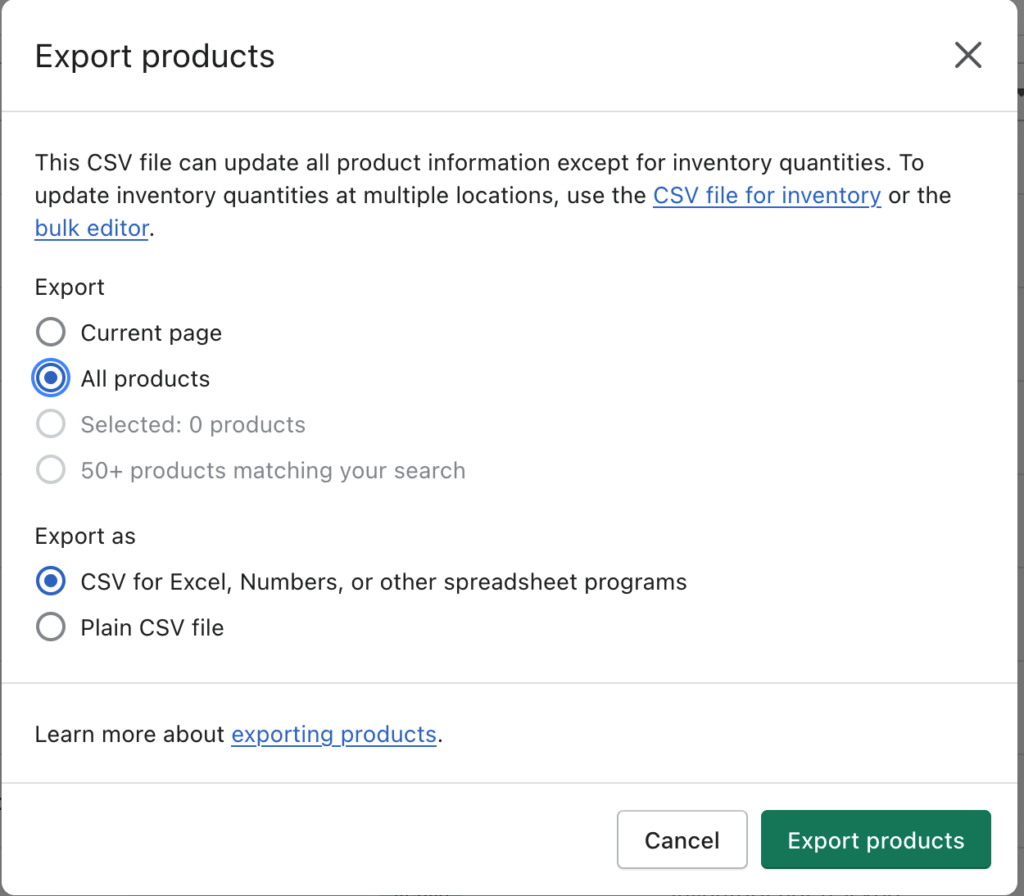 3. Everything else
Those are the two I would be most concerned with but there is so much more than needs a backup. Collections, product images, blogs, pages, and more.
Sadly, Shopify doesn't have a simple way to backup all your data. In this case, I'd recommend installing an app. Ugh! I know. Who wants to spend more money? This, however I believe is money well spent!
I don't often recommend apps for every store, but Rewind is one of those apps I believe everyone should have. Rewind has great reviews and is THE app for all things backup-related.
Sign up for Rewind using this link to receive your first month free.
Go right now and back up everything! Or at least invest in an app to make sure you don't lose your data. Nothing is worse than starting from scratch when you don't have to. Especially when you're expecting a large influx of customers visiting your store.